Last week (September 15 – 18) was busy. I had interesting meetings in both Lyon and London.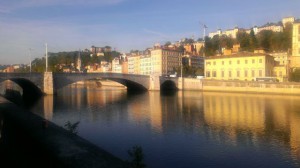 First to Lyon: Agence France Locale will be moving to the beautiful city of Lyon in the beginning of October and the Supervisory Board had its first meeting there September 16. The meeting took place on the 27th floor of the Tour Oxygen. On the same day, there were also a meeting of the Board of the Mother Company of the agency and a subsequent press conference. Read the press release (in French) here.
Then to London the following day, September 17: I was asked to speak at a meeting with representatives of councils interested to join the UK Municipal Bond Agency. My speech included a brief presentation of existing agencies in Europe and elsewhere and a more detailed description of Kommuninvest and Agence France Locale. More specifically I went through the applied guarantees and supervision of members/local authorities. Other external speakers at the meeting where Dr Stefan Vetter (Deutsche bank), Bernard Gordon (EIB), and Jennifer Wong (Moody's).
I also had the opportunity to meet the team of the Local Capital Finance Company, the newly created entity for the Bond Agency. Read the Local Government Association's press release issued on September 9, 2014, here.
Lars M. Andersson